Ningbo ALS Metal Products Manufacturer Co., Ltd. is a professional specialized in production of mold fine frame, mould parts, mold steel, mold manufacturing and other plastic products. The company is located in the world first cross-seabridge-the south bank of Hangzhou Bay Bridge,where the traffic is very convenient.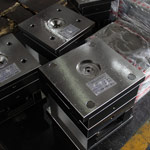 Ningbo ALS is a professional mold manufacturer with innovation capacity, advanced technology and independent creativity in design and manufacturing systems. ALS molds have covered diverse fields, e.g. automotive, communications, electronics, medical equipment and so forth. The products are exported to Germany, the United States, France, Japan and other developed countries. ALS has been offering injection molds and products for internationally well-known enterprises.
The best locking system functional tape measure
The functional tape measure is a special steel measuring tape with winderful features.
The best locking system functional tape measure has robber support inside the tape.It holds the tape blade much more firmly when locked. The rubber prevents the tape form sliding because it's putting pressure against metal and rubber,giving better adhesiveness.
Measuring window functional tape measure has a little opening window so you can have wide view to read the measurements easily and accurately.
Double handle hook functional tape measure has double handle on the hook.It is easier to hold pencil filmly to draw straight lines on nay boards and to hold utility knife firmly to cut drywalls with accuracy and convenience ...
>> View More of Functional Tape Measure
---
---
---
---