Functional Tape Measure
The functional tape measure is a special steel measuring tape with winderful features.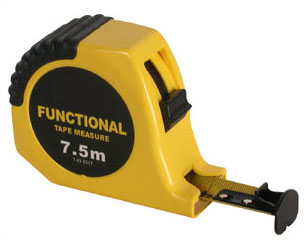 The best locking system functional tape measure has robber support inside the tape.It holds the tape blade much more firmly when locked. The rubber prevents the tape form sliding because it's putting pressure against metal and rubber,giving better adhesiveness.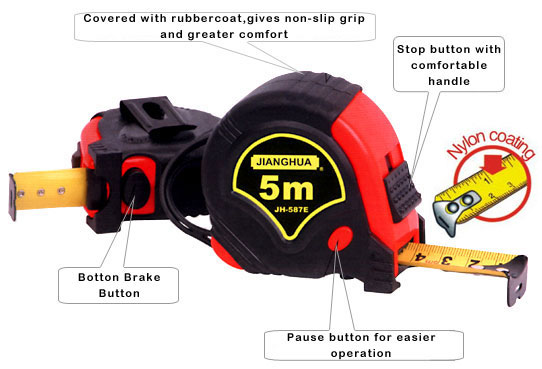 Structure of normal steel measuting tape measure

Measuring window functional tape measure has a little opening window so you can have wide view to read the measurements easily and accurately.

Double handle hook functional tape measure has double handle on the hook.It is easier to hold pencil filmly to draw straight lines on nay boards and to hold utility knife firmly to cut drywalls with accuracy and convenience.

The bottom of the functional tape measure has exhaust holes to have the dust and loose particles to fall out, preventing accumulation of loose particles and from damaging the tape mesuremen.

New steel support functional tape measure has an extra body on the bottonm of the tape measurement to substitute the fingers and used it for a support and also it has steel on the face for urabitity.

When you draw lines or cut boards with functional tape measure,just,butt the support on the edge of construction materials and slide Through. Then you can finish the work more accurately, easily, safely, quickly and onveniently.
Manufacturer or Supplier of Product:
China Eastern Tape Measure Manufacturer Co., Ltd.
Relative Site (URL):
http://www.china-tapemeasure.com